Wild tusked female elephant with family, Kenya, Africa, 2013. Credit: Carl Safina
Back in February when Swaziland sold 17 formerly free-living African elephants to three U.S. zoos (Dallas, Omaha and Wichita), I made a phone call to the president of one of the United States' better zoos–a zoo not involved in this deal–asking if he thought it was OK to still be catching wild elephants for zoos.
Considering elephants' family bonds and the ivory-slaughter and encroaching farming shrink-wrapping elephants' world, the obvious answer to my question would be–no. But the Swazi government claimed that those 17 elephants would either have been "culled"–killed because the amount of land was judged insufficient–or sold to zoos. But how could I judge the Swazi government's claim? And couldn't they have been donated to a country whose own elephants had been massacred? Those questions prompted my phone call.
My friend the zoo president said, "It's important that governments not see export of threatened and endangered species as simply an available money-making strategy." (He spoke on the record but this topic is so touchy that sharing his remark is better than sharing his identity.) He implied that if this is a one-time thing, they are probably telling the truth. If it gets to be a habit, the government is simply looking for an excuse to make money selling off its wildlife.
We have an answer. Swaziland is now trying to sell rhino horns. Swaziland's anti-poaching body wants to sell the country's stockpile (about 700-lbs) of horns from rhinos that died and horns confiscated from poachers. It estimates it could make $10 million. (Though made of the same stuff as your fingernails, rhino horn is sold as a cure to cancer and other ailments, at nearly $14,000 a pound.) The government claims the money could help protect rhinos from poachers.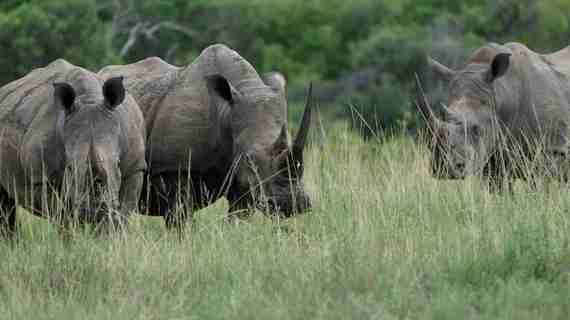 White rhino family, Africa, 2015. Credit: Carl Safina
Sounds good but–. Any trade in rhino horn, elephant tusks (ivory), sturgeon eggs (caviar) or any insanely-priced animal parts creates temptation to corruption. A government that can make $14,000 a pound from something confiscated from poachers, has incentive to give poachers a slap on the wrist and send them right out again. If you're a wealthy wildlife criminal, you might bribe a guard with a key to the natio千花网论坛