Let's say you are sitting in your living room watching, I don't know, Fox News. Suddenly you break out into a sweat, there is a tightness in your chest, and you can barely breathe. You think that you are having a heart attack. You dial 911 and an ambulance is deployed. A small team of heroic people arrive soon after, load you into the ambulance, and race you to the hospital where doctors surround the gurney and whisk you to the safety of the emergency room.
That is similar to how the 'environmental emergency response system' works. However, the 911 call sounds more like "reefs are bleaching at unprecedented rates" or "deforestation and illegal wildlife trade threatens the endangered (insert the name of any number of charismatic fauna here)." Conservation responders rush in and carry a patient, in this case a species or an ecosystem, to a protected area.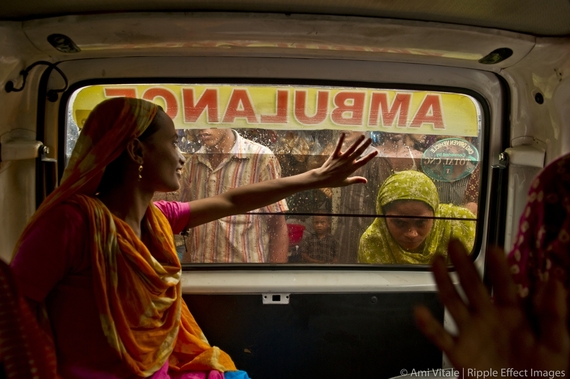 The problem is that in the above scenario, the real Emergency Medical Service's (EMS) response is much more nuanced and significantly more sophisticated. If a cardiac event is called into 911, a small team of heroic people are deployed, arriving at the scene in an insanely short amount of time, often less than 3 minutes and, on average, no more than ten minutes. The responders begin a very thorough yet astoundingly rapid assessment using finally honed diagnostics. They will ask you how you are feeling. The responders will simultaneously hook you up to equipment that, at a minimum can give a detailed analysis of what is going on with your heart and often has the capacity to wirelessly transmit information from various aspects of the heart's function to predesignated hospitals to figure out not only whether or not you should go to the hospital but which hospital you should go to. This process not only reduces the time until you receive life-saving treatment but allows doctors and first responders to coordinate efforts during your transportation, reduces mistakes, and allows the entire team to make mid-course corrections as necessary. Importantly, the EMS industry has worked rigorously over the past five decades to grow an organized, systematic response to every conceivable catastrophe with coordination and diagnostics as the cornerstone of success.
While the conservation scenario is also more nuanced and complicated, the suite of solutions developed by the environment community is astounding limited both in terms of tools used and the process by which those tools are deployed. While the EMS industry has evolved and progressed over the past fifty years, the environmental movement has effectively stalled out due to bickering and lack of coordination, failure to develop and deploy rapid diagnostic and response systems, failure to innovate and the inability to step back and honestly evaluate strategy and expenditures against outcomes.
Interestingly, EMS and Environmentalism began at roughly the same time in the United States. In 1865, the first horse drawn ambulances were deployed in Cincinnati. Seven years later, Yellowstone爱上海